Fall is here and the fish are on the move. This time of year the water temps are cooling and the Bait fish are moving inshore. The Pilchards, Thread fins, and Finger Mullet are moving in to the grass flats and around the beaches. I love this time of year bait fishing is easy and the fish are biting. Fishing the passed few months the big Snook and Redfish have been plentiful. Did I say Reds, How about over a hundred. I had three anglers fishing and catching Reds and a few Snook every cast for an hour and a half one day.  All the reds were between 22" to 30" Get Some Of That!!! Since that day the inshore fishing has been awesome and we have had many more days like that one. This fishing should remain good until the end of December.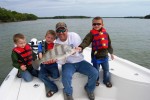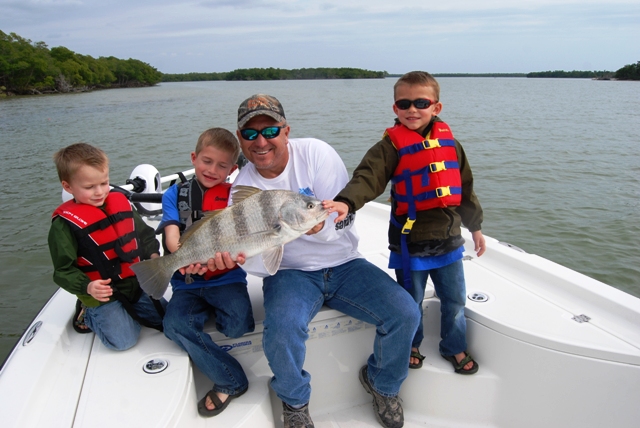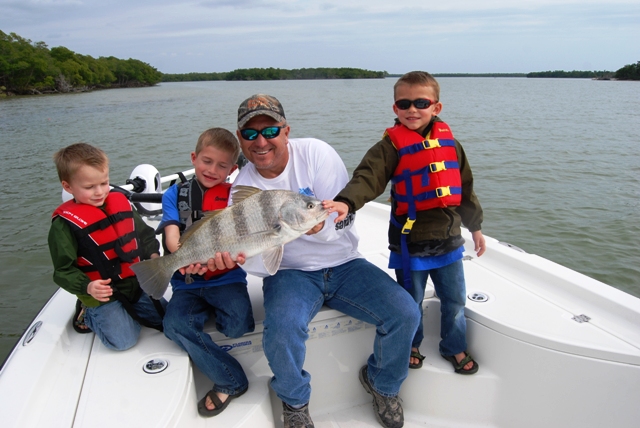 The winter is upon us but not really cold. We are having a mild winter so far, this is keeping the water temperature in the high 60 to low 70. The fishing in the 10,000 islands area is what I call "Pot Luck fishing". What I mean buy that is we never know what different types of fish we will catch that day.
The bait of choice is a live shrimp or a scented rubber tail on a jig head. We usually fish this under a float witch suspends the bait to give it a natural presentation. This technique can be used by the most accomplished angler or the novice. Everybody catching fish!! The fish we are catching using this method are Redfish, Snook, BlackDrum, Seatrout, Jacks, Ladyfish, Pompano, Bluefish, Sheephead, Mangrove Snapper, and more often than not most all these fish we are catching every day we fish. Fishing is really good and will continue to be good while we are having a mild warm winter.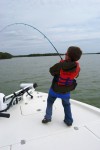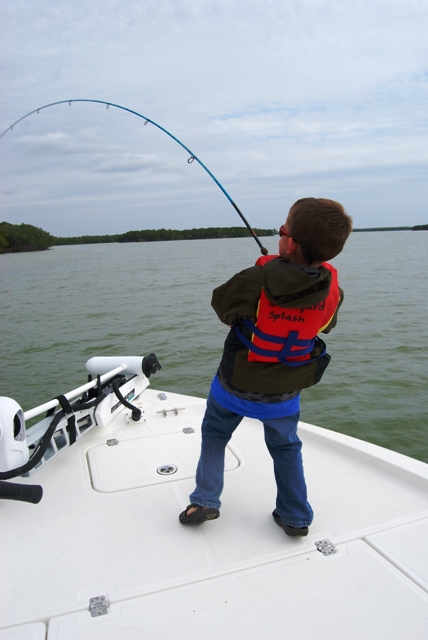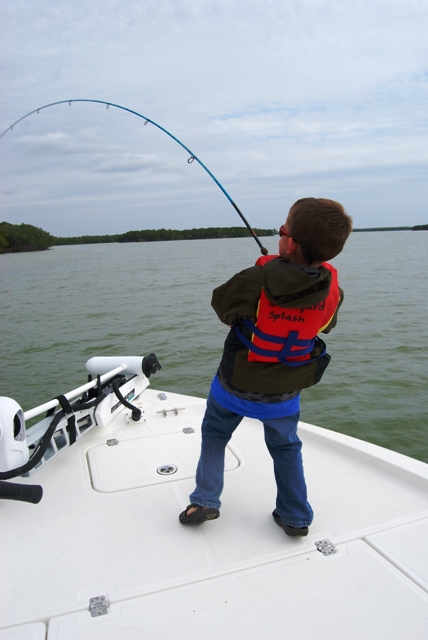 Hi Brian!
Just wanted to thank you again for the amazing fishing trip. It is a testament to your ability that you were able to keep 3 boys from getting bored. They had a great time. They took pictures to school to show their friends and are still talking about how awesome it was.
Thanks,
Heather J.
"Thanks for a great weekend in Chokoloskee! I appreciate your showing us all of the hotspots. Unfortunately, I totally lost from the time we turned the first comer so I'll never be able to find them again"
Michael Leech, IGFA
"I have fished for over 30 years from Alaska to South America and also the 10,000 Islands and my best snook catching days are those spent with Captain Brian Sanders. He is knowledgeable, hardworking and makes things happen"
Bob Andreae, M.D.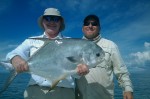 Fishing this week in Chokolosee, Everglades city area was off the chart. The Gulf or Mexico wreck fishing is Hot!!! My clients and caught a total of 9 Permit this week. These fish ranged from 18-25 lbs. We caught all of these fish on live crabs. We also found a large school of Tarpon ranging from 40-100 lbs 0n one of the offshore wrecks. We hooked several fish , but never boated any. This time of year the Gulf Of Mexico is full of Spanish Mackerel. These fish are ranging from 1-3 lbs. These fish can be caught on artificial and live baits, and make a lot of fun for everyone.
Lets go to the Mangroves, I have one word for the Red fishing AWESOME. The Redfish population is at an all time high. An average day in the Everglades National Park area is around 40 Redfish boated and some days near 70-80 fish boated. These fish are ranging in size from 18"- 27" with several fish over 30". It doesn't seem to matter what area we fish, we are catching Redfish from the Pavilion Key area down the coast through Lostmans river to the Rogers, Broad, and the Harny rivers. We are fishing the river mouths, oyster bars and Mangroves. Bait of choice is a finger Mullet. We have caught a few Snook this week ranging from 20"- 33" but only a few!!
Tight Lines,
Capt. Brian Sanders
"While fishing with Capt. Sanders during the past year I've learned that he has an incredible sense for finding fish… even on the toughest of days. I've fished on a wreck for grouper, jellyfish and cobia, and sightfished for snook, redfish and tarpon with tremendous results. Even when livebaiting Capt. Sanders seems to know all the spots where fish are biting. At the end of the day there are always fish to bring home and stories to tell"
Scott S.
The legend of Capt Brian Sanders grows. The Chokoloskee redfish bite is amazingly hot!
On Friday, my friend Bob Hall and I played hookie from the office and went fishing with Capt. Brian. As we started out at 8 AM, Brian mentioned that the tides were outbound, so that catching bait would be tough and fishing would be 'only average' until the start of the incoming tide around 1 PM. That said, Brian was able to scare up 40 or so finger sized mullet as bait and our offshore trip to a sunken rock barge produced a huge 38 inch snook as well as half a dozen trout, a small grouper, two stingrays .. and the inadvertent feeding of a few bruising goliath groupers who repeatedly ate the many unknown fish we were hooking. Wandering back to the islands at noon, Brian was able to net a bunch more bait. …. and the redfish fest commenced. First a single catch by me, then a double header by Bob and me.
Finally fishing was so amazingly good that Brian actually told Bob, before casting the rod and handing it to him, that Bob should count to five and then start reeling, as the redfish would be hooked by then. IT HAPPENED EXACTLY AS HE SAID! We had numerous triple headers, where all of us were hooked up. After catching and releasing probably 50 -60 redfish, Bob and I finally surrendered… we were hot and sunburned and tired of catching fish. Bob and I brought home fillets of the three largest redfish we could catch (the limit is one per day per person) as well as six nice sized sea trout.
Interesting to think that Brian began the day by almost apologizing for an expected slow morning… and we wound up a few short hours later asking him to let us stop catching fish so we could get into some air conditioning. He said we probably had another hour of extreme fishing ahead of us if we wanted to stay.
Just thought I'd gloat a little bit and to remind us of how talented a fishing guide we have in Brian.
Dennis Moran
A/K/A The 'Mac Daddy' to Emily, Clare and Colleen and the amazing Ms. Angela.
Sent: Tue, September 6, 2011 9:23:27 PM
Subject: Thank You and Pictures
Hi Brian,
Attached are some pictures for your website.
Savanna and I had an awesome time. You truly delivered an action packed day of catching. We will definitely be back for more in the future. Btw, one guy who just got done cleaning his boat at the dock asked me how we did. I rattled off the large number of fish and variety of species we caught. I then asked him how he did…a couple of lady fish was his answer.
Best of luck in the tournament this week.
Thanks again.
Fritz L.