Fall is here and the fish are on the move. This time of year the water temps are cooling and the Bait fish are moving inshore. The Pilchards, Thread fins, and Finger Mullet are moving in to the grass flats and around the beaches. I love this time of year bait fishing is easy and the fish are biting. Fishing the passed few months the big Snook and Redfish have been plentiful. Did I say Reds, How about over a hundred. I had three anglers fishing and catching Reds and a few Snook every cast for an hour and a half one day.  All the reds were between 22" to 30" Get Some Of That!!! Since that day the inshore fishing has been awesome and we have had many more days like that one. This fishing should remain good until the end of December.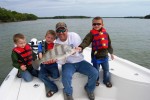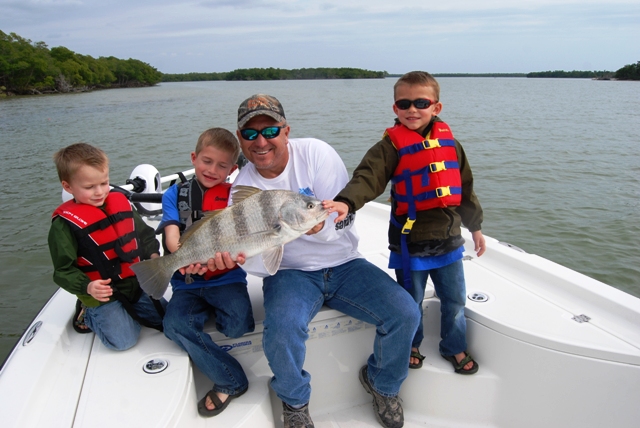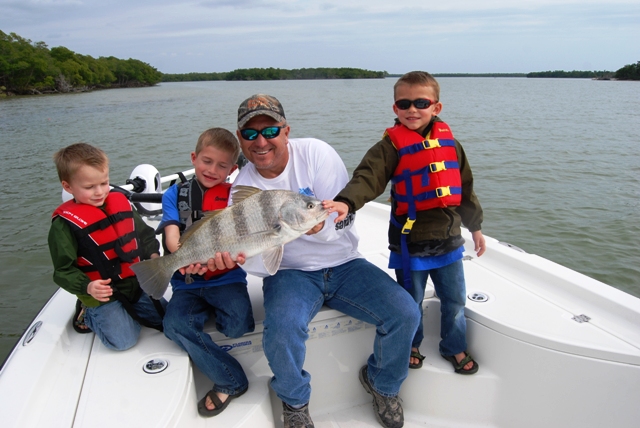 The winter is upon us but not really cold. We are having a mild winter so far, this is keeping the water temperature in the high 60 to low 70. The fishing in the 10,000 islands area is what I call "Pot Luck fishing". What I mean buy that is we never know what different types of fish we will catch that day.
The bait of choice is a live shrimp or a scented rubber tail on a jig head. We usually fish this under a float witch suspends the bait to give it a natural presentation. This technique can be used by the most accomplished angler or the novice. Everybody catching fish!! The fish we are catching using this method are Redfish, Snook, BlackDrum, Seatrout, Jacks, Ladyfish, Pompano, Bluefish, Sheephead, Mangrove Snapper, and more often than not most all these fish we are catching every day we fish. Fishing is really good and will continue to be good while we are having a mild warm winter.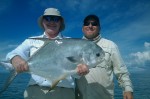 Fishing this week in Chokolosee, Everglades city area was off the chart. The Gulf or Mexico wreck fishing is Hot!!! My clients and caught a total of 9 Permit this week. These fish ranged from 18-25 lbs. We caught all of these fish on live crabs. We also found a large school of Tarpon ranging from 40-100 lbs 0n one of the offshore wrecks. We hooked several fish , but never boated any. This time of year the Gulf Of Mexico is full of Spanish Mackerel. These fish are ranging from 1-3 lbs. These fish can be caught on artificial and live baits, and make a lot of fun for everyone.
Lets go to the Mangroves, I have one word for the Red fishing AWESOME. The Redfish population is at an all time high. An average day in the Everglades National Park area is around 40 Redfish boated and some days near 70-80 fish boated. These fish are ranging in size from 18"- 27" with several fish over 30". It doesn't seem to matter what area we fish, we are catching Redfish from the Pavilion Key area down the coast through Lostmans river to the Rogers, Broad, and the Harny rivers. We are fishing the river mouths, oyster bars and Mangroves. Bait of choice is a finger Mullet. We have caught a few Snook this week ranging from 20"- 33" but only a few!!
Tight Lines,
Capt. Brian Sanders